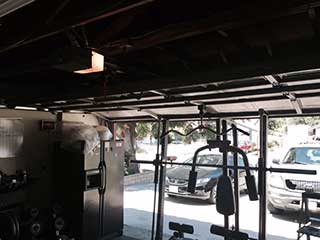 If you want to be able to keep using your garage door for a long time, you need to invest in some professional maintenance. This type of service will not only prevent a wide range of issues from manifesting, it will also keep the system's operation smooth and efficient.
The Key Parts
The springs are perhaps the most important parts of the entire garage door system. These metal coils are the ones who operate like the system's muscles, and they're the ones who support the weight of the panels and help the door open and close effortlessly. To ensure their longevity, our technicians will inspect, lubricate and adjust them, and make sure that the wear and tear they have to go through gets drastically reduced.
Additional Hardware Inspections
Of course, your garage door has more than just springs. We'll also check the tracks for bending sections and rust, make sure that the rollers aren't worn and that the panels themselves aren't dented or cracked. Any damage we find will be patched up, sealed or – if it proves to be severe enough – the entire part in question will be replaced.
Keep An Eye Out
Another key aspect of our maintenance service is testing the opener safety sensors and making sure that the door reverses properly when it's supposed to. These photoelectric eyes are in charge of detecting obstacles that get in the door's path, so their alignment must be exact and their lenses must be clean and unobstructed. We'll make sure of all of that.
Give Us A Call
The different tasks we'll perform will make sure that every aspect of your overhead door system stays in an optimal shape and that any potential issue gets nipped in the bud before it gets a chance to develop. Contact Garage Door Repair San Jose today and let our specialists take care of your system for you.
Count on us when it comes to:
LiftMaster Garage Door Opener Repairs
Garage Door Opener Track Maintenance
Broken Garage Door Spring Replacement
Overhead Door Repair & Installation