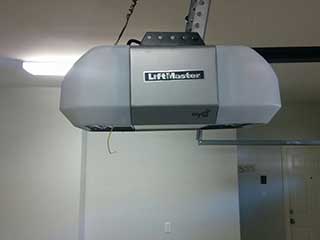 Automatic garage doors are now something many of us take for granted. We have installed and repaired countless opener systems for residents in San Jose and can help you with your opener too. If you're considering a replacement, here are some of the important things to consider before you make the final decision concerning which unit to go for.
Choosing A New Unit
When choosing a new opener, you can select from three types:
Chain Drives
This model uses a chain to lift the door. Its cheaper than others, but also the noisiest. We wouldn't usually recommend this one for garages attached to the home.
Belt Drives
The belt drive is the quietest when operating. Models of this type usually cost a little more and are best suited for attached garages where noise is likely to be an issue.
Screw Drives
The screw drive system uses a threaded rod and a trolley to move the door. Although these systems can be noisy too, units of this type need less maintenance because they only consist of a few parts. This type is recommended for those who don't mind a bit of noise.
Side Installation Or Overhead
The vast majority of openers come as the overhead variety. They sit attached to the ceiling of your garage and pull the door toward them as they close. Some, however, prefer their opener to be mounted to the side of the garage if their ceiling is lower than standard or to allow space for additional objects.
Smart Or Not So Smart?
Some openers today come with the capability to be operated with your smartphone through an app. This is not only very convenient, it can allow users to access various stats and monitoring abilities. If you don't have a smartphone or tablet and would prefer more traditional methods, there are still also loads of models available that work this way.
Contact Our Specialists
Call us at Garage Door Repair San Jose today for further advice or assistance regarding opener installation or repair. We can ensure all the integral parts and functions are set up to work perfectly. We can also fix any malfunctions that might be giving you trouble.
Need more? We also provide:
Garage Door Tune Up Services
New Opener Remote Controls
Garage Door Cable Replacement
Bent Garage Door Track Repair