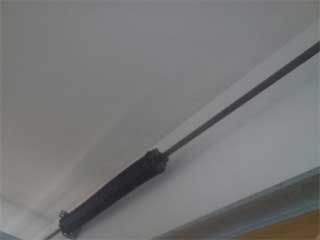 Springs are perhaps the most important components of your garage door. Without them, the system simply won't work. These components support the weight of the panels and use tension to help you (or your opener) move it up and down. When you consider how many times you use your garage door in a week, not to mention, in one year, you can appreciate that the springs need to be in perfect shape to do the job properly and safely.
Two Different Options
Your garage door will use either extension or torsion springs to support its weight and help it move. Extension springs, as their name suggests, work by stretching and contracting their coils. Because of that, they are considered more dangerous, and are often attached with safety cables that keep them in place in the event they break. Torsion springs, on the other hand, do not stretch. They use torque by twisting and unwinding, which makes them more flexible and durable, and therefore the preferred choice. They require a certain amount of headroom space, so they may not always be used, only if that space is available.
Why Not DIY?
You may be considering fixing or replacing your garage door springs by yourself. Don't. With all due respect to your skills as a DIY'er, these components can snap and seriously hurt both to you and your property. Your door panels will also slam to the floor when something like that happens, which poses more dangers to anyone standing nearby. Both extension and torsion units can be extremely dangerous when they are mishandled, so be sure to never try to perform spring replacement or adjustment by yourself, as you could get seriously hurt.
Reach Out to Our Team
Our repair specialists can handle any spring-related problem you may have, regardless of which type of units you have installed or how bad or complex the issue seems to be. Call Garage Door Repair San Jose today and rest assured that our technicians will take care of everything.
Give our team a call if you need help with:
Galvanized Torsion Spring Installation
Garage Door Opener Track Maintenance
Door Opener Troubleshooting Services
Extension & Torsion Spring Replacement