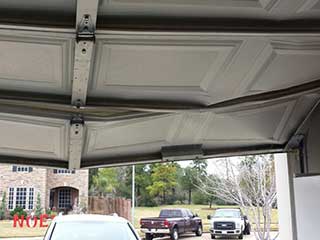 The complexity of your automatic garage door is its greatest strength but also its main weak point. Because it relies on so many different parts to operate, there are all sorts of problems that can hinder its performance. Whatever the cause may be, you can always rely on our team to find an effective solution to any issue.
Thorough Opener Repair
As the unit that automates and powers your door's movement, this device can develop both electrical and mechanical faults. The gear can break, the circuit board can fry and even the drive system or the trolley can suffer from some issues. Whichever part is responsible doesn't matter, because our technicians will be able to quickly fix the problem. If the cause is unclear, we'll troubleshoot the opener until we've found the culprits, and then replace the damaged component with a new one.
Safe Spring Replacement
Dealing with a broken garage door spring is not only inconvenient, it's also very dangerous. That's why you should leave all types of spring replacement work to our repair specialists. These components are under a lot of stress and adjusting their tension can be incredibly risky. To avoid getting hurt, simply reach out to our team as soon as you find yourself dealing with a problem.
Trouble With The Tracks
These are the parts of the system that make sure your rollers, and therefore the door, move in a precise line. Their alignment must be exact and their condition must be flawless. Even small bends can lead to a situation where the door gets off track. Our experts can repair any dents or misshapen sections, and even replace the tracks completely if they've become too severely damaged.
Experts At Your Service
Give our team at Garage Door Repair San Jose a call today and let us help you with whatever you need. There's no problem we aren't fully qualified to handle.
Our team can also take care of:
Belt Drive Opener Installation
Garage Door Safety Inspections
Torsion Spring Adjustment
Garage Door Remote Clickers